DESCRIPTION:
The sheep cat condo was a peculiar piece of furniture, with its soft woolen exterior and cute shape design. At first, the cats were hesitant, but soon they were curling up inside, lulled into a peaceful slumber by the gentle bleats of their new sheep friend.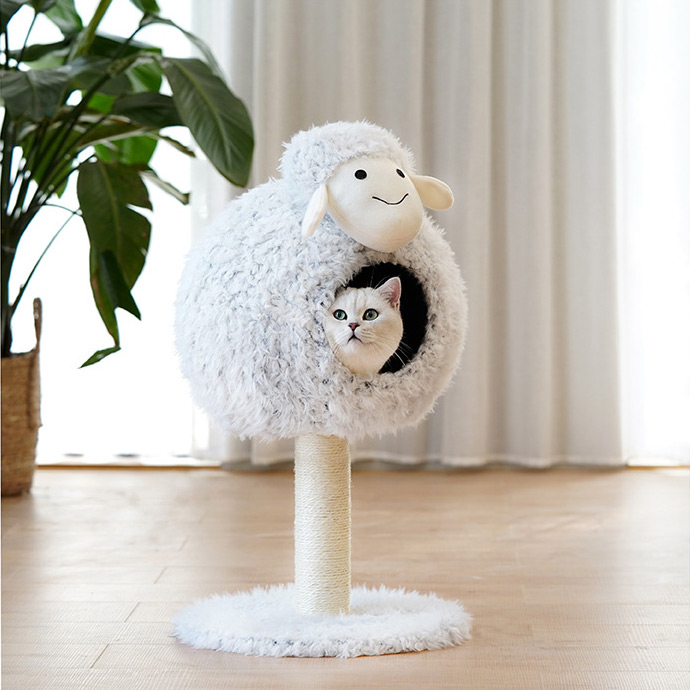 FEATURES:
Selected Cashmere-Like – Choose high-quality Cashmere-like with high grammage and high down content. Delicate and soft, good skin-friendly.
PVC Hard Top – The spherical cat house made of high-quality PVC is suitable for all seasons. The interior is non-stick cat hair for easy cleaning.
High-Quality Sisal Rope – Wrapped with high-quality sisal rope, it is strong and scratch-resistant, has a long service life, will not hurt the cat's claws, and meets the daily needs of cats.
Original Design – Unique cute lamb design. Fine workmanship makes the shape of the lamb more realistic.
Detachable Inner Cushion – Removable inner pad design for easy cleaning.
NOTE:
1) It is recommended that at most 2 cats play at the same time.
2) Regular cleaning of the sheep cat condo inner pad can effectively reduce the growth of bacteria.
3) Wooden boards will have a slight smell, non-formaldehyde, and will not affect health. The smell will slowly disappear after 3-5 days of ventilation.
SPECIFICATIONS:
Materials: Cashmere-Like, Wood-Based Panels, Sisal Rope, Paper Tube.
Size: 42cm x 42cm x 70cm (16.5 x 16.5 x 27.6″).