Memphis Design Style Cat Tree
DESCRIPTION:
Memphis cat tree rose boldly, five tiers of style. Geometric shapes and stripes in vivid hues. Not merely a tree but a patterned world for cats to roam. Striking yet whimsical, this stylish tower inspired furry delight and boundless play. With stylish perches and toys at every turn, a colorful cat's dream comes to life.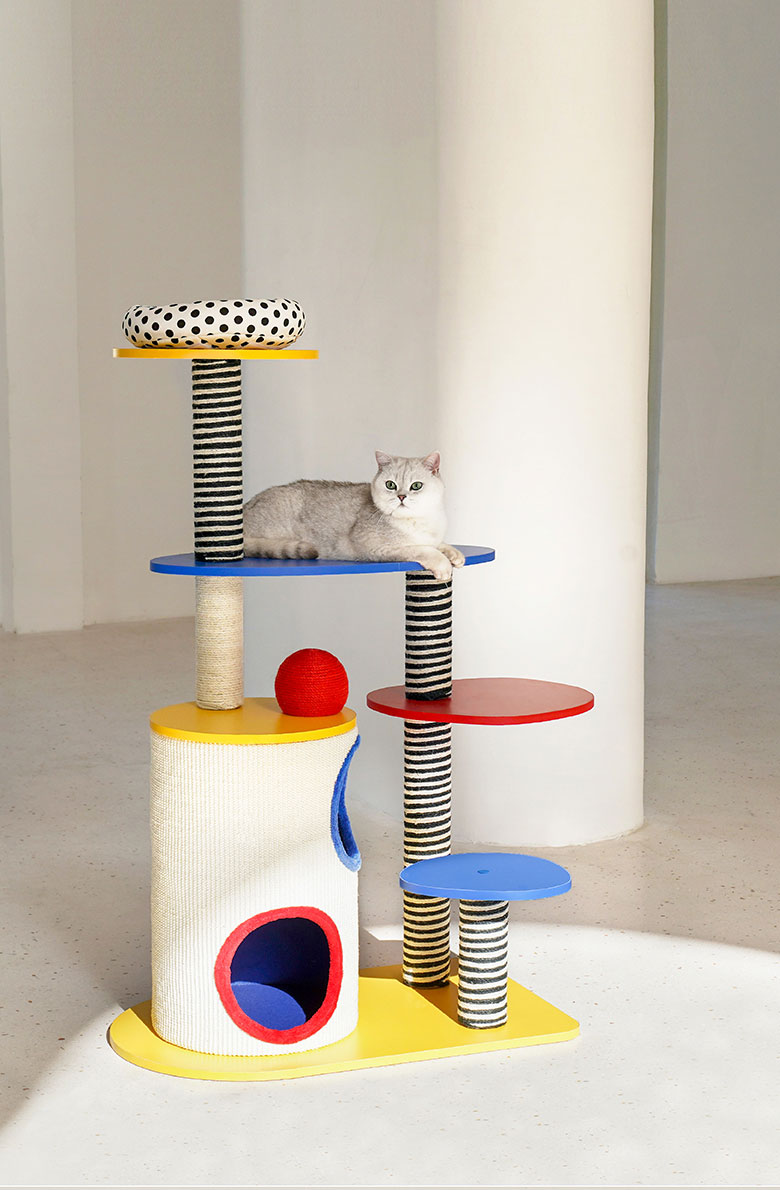 FEATURES:
Bold, Colorful Design – The cat tree features a vibrant color palette and bold geometric shapes inspired by the Memphis design movement.
Multiple Tiers – Provides ample space for multiple cats to play, climb, and nap.
Durable Materials – The cat tree is made from high-quality wooden boards that can withstand the wear and tear of daily use by active cats.
Comfortable Perches – Each tier features a soft and cozy perch that provides a comfortable spot for cats to rest and observe their surroundings.
Stylish Addition to Any Home – The Memphis design style cat tree is not only functional but also adds a unique and stylish touch to any home decor.
SPECIFICATIONS:
1) Keep the cat tree dry and do not place it in a humid environment.
2) It can accommodate 2-4 cats to play at the same time.
3) Wooden boards will have a slight smell, non-formaldehyde, and will not affect health. It is recommended to use it after 3-5 days in a ventilated place.
SPECIFICATIONS:
Material: Wooden Boards, PP Cotton, Hemp Rope, Environmentally Friendly Board.
PRODUCT SIZE (CM/INCH)
A (70cm x 70cm x 184cm/27.6 x 27.6 x 72.4″).
B (57cm x 64cm x 132cm/22.4 x 25.2 x 52″).
C (48cm x 76cm x 123cm/18.9 x 29.9 x 48.4″).