DESCRIPTION:
The Giraffe Cat Tree is inspired by animals in the African grasslands, with the image of a giraffe as the main body of the cat tree. Combining cat trees, tunnels, and scratching posts saves space and meets the needs of cats' lives at the same time.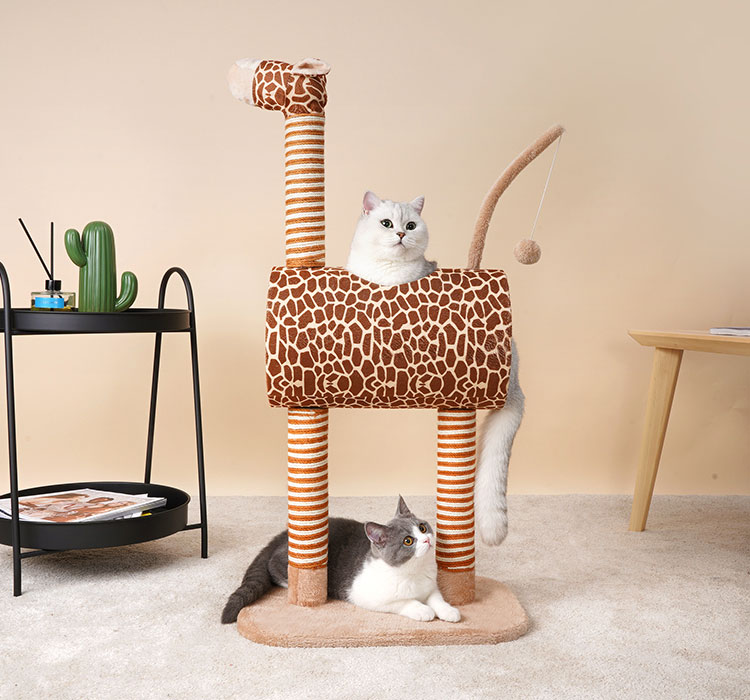 FEATURES:
Soft Crystal Velvet – High-quality plush is used as the main material to wrap the whole body of the giraffe, which is comfortable and soft. The texture of the giraffe is digitally printed and will not fade.
Smooth Arc Channel – The inside of the channel and the opening are covered with plush to ensure that the cat will not get scratched while playing.
High-Quality Sisal Rope – The thickened two-color sisal rope is scratch-resistant and will not hurt the cat's claws, allowing the cat to fully release its nature.
Funny Cat Ball – The giraffe's tail is designed as a cat ball, which increases the fun of cat play.
High-Density Base Plate – Choose a thickened bottom plate to ensure that the giraffe cat tree will not shake or collapse when the cat is playing. At the same time, the four corners of the bottom plate are also designed with curved wrapping, making it safer for cats to play.
NOTE:
1) Keep the product dry and do not place it in a humid environment.
2) Regularly clean the inner pad to reduce the growth of bacteria.
3) Use a vacuum cleaner to clean the giraffe cat tree surface hair, or gently wipe the surface stains with a wet towel.
SPECIFICATIONS:
Materials: Rabbit Velvet, Crystal Velvet, Paper Tube, Wood-Based Panel & Hemp Rope.
Size: 50cm x 35cm x 105cm (19.7 x 13 x 41.3″).