Gingerbread Man Cat Scratching Mat
DESCRIPTION:
Inspired by the cute and brave gingerbread man, with yellow-brown as the main color and red and green dots, we have completed the design of the gingerbread man cat scratching mat. A flexible and sleepable multi-functional sleeping cat scratching mat that can meet the needs of paws, and also can rest the kitten comfortably, so that the cat can reap double happiness.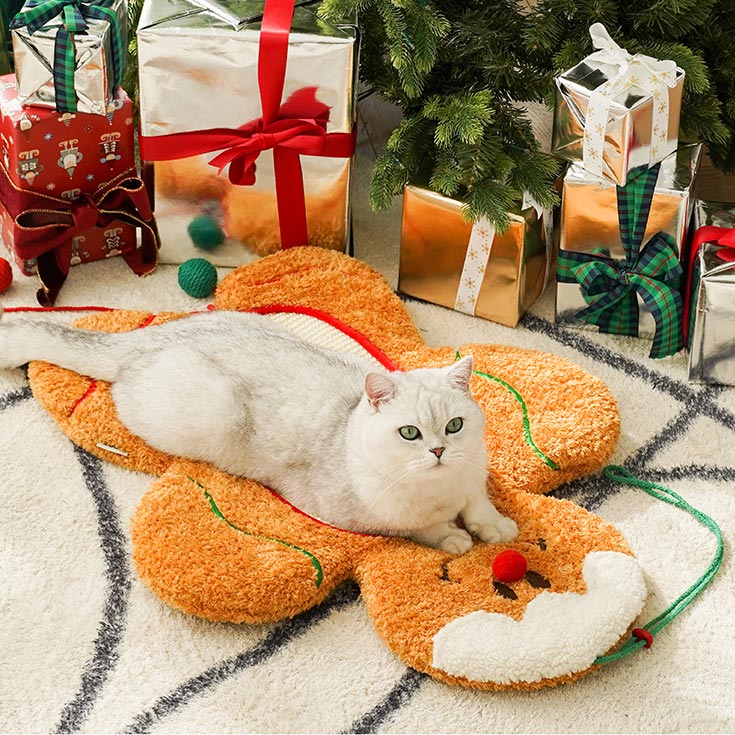 FEATURES:
Multi-Functional – The soft gingerbread body is made of durable sackcloth, which can be used to lie flat and rest or to grind paws to release nature.
Lay Flat Or Hang – On the top of a gingerbread man cat scratching mat thoughtfully designed green hanging decorative rope.
Skin-Friendly & Delicate Fluffy Fabric – Soft fleece, comfortable to touch, soft texture, let the cat enjoy a peaceful rest time.
Fluffy High-Resilience Filling Cotton – Use high-resilience filling cotton, which is breathable and not stuffy, making cats comfortable and decompressed.
Cat Balls – A red ball and a green ball hang from a long red string for the cat to chase and play.
NOTE:
1) Keep the product dry and away from the humid environment.
2) Clean the cat scratching mat surface hair frequently, and gently wipe the surface stains with a wet towel.
SPECIFICATIONS:
Material: Peach Velvet, Wheat Ear Velvet & Linen.
Size: 55cm x 73cm (21.7 x 28.7″).