DESCRIPTION:
Mittens loved climbing through the cow cat tree. She would poke her head out of the tunnel and scratch the posts, then bat at the tail ball, filled with her favorite catnip. The fluffy cow head made her purr as she nestled inside, the perfect cozy hideaway for a mischievous little cat.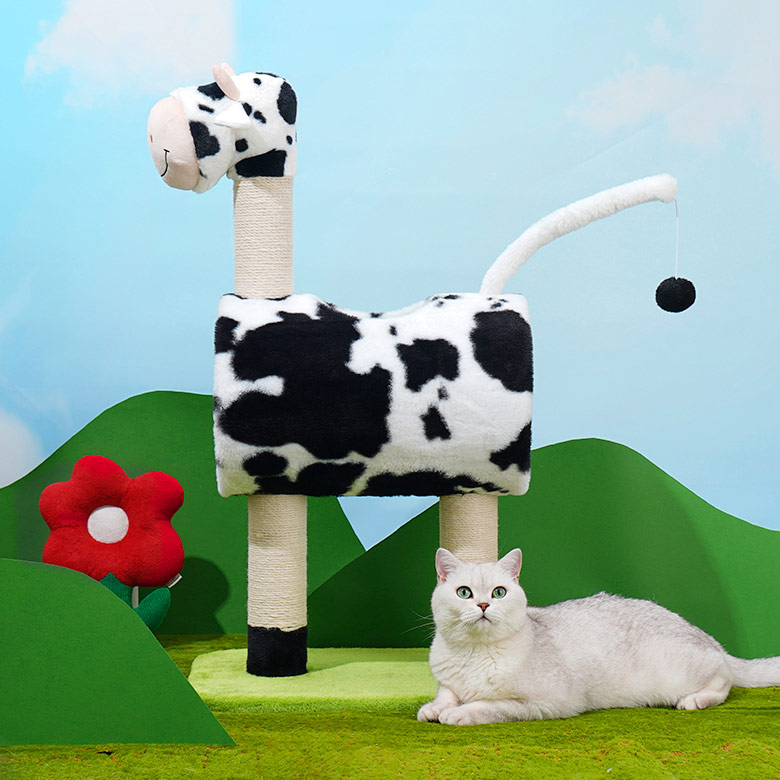 FEATURES:
Cat Tunnel Body – The cow cat tree has a tunnel-shaped body that allows cats to climb through, stick their head out of multiple openings, and nest inside. This enclosed space gives cats a sense of coziness and security.
Scratching Posts – The two legs of the cow cat tree are covered in sisal rope, allowing cats to scratch and stretch. The tall, vertical posts also give cats opportunities for climbing and perching.
Fluffy Cow Head – The cow head on top of the cat tree is fluffy and soft, perfect for cats to cuddle up against or bat around during play. It adds a whimsical, decorative touch that cat owners would enjoy.
Catnip Tail Toy – Attached to the back of the cow cat tree is a tail consisting of a stick and a catnip ball. This gives cats an interactive toy to chase, bat, and chew on, keeping them stimulated and entertained. The catnip adds an element of allure for many cats.
Safe Play – The inside of the channel and the opening are covered with plush to ensure that the cat will not get scratched while playing.
Premium Jute Rope – 6mm Jute rope, scratch-resistant, long service life, will not hurt the cat's claws, let the cat fully release its nature.
High-Density Base – Choose a thickened bottom plate to ensure that the cat tree will not shake or collapse when the cat is playing. At the same time, the four corners of the bottom plate are also designed with curved wrapping, making it safer for cats to play.
NOTE:
1) Keep the product dry and do not place it in a humid environment;
2) Regularly clean the inner pad to reduce the growth of bacteria;
3) Use a vacuum cleaner to clean the cow cat tree surface hair, or gently wipe the surface stains with a wet towel.
SPECIFICATIONS:
Materials: Rabbit-like fleece, polyester fiber, paper tube, wood-based panel, hemp rope
Size: 50cm x 35cm x 86cm (9.7 x 13.8 x 33.9″).