DESCRIPTION:
The snowflakes fell quietly, and a fluffy hat was woven for the pine tree as a Christmas gift to welcome the coming Christmas. The enormous cat tree stood laden with ornaments, their favorite toys. For this was their cherished Christmas, a perfect playing place, their beloved Christmas tree cat tower.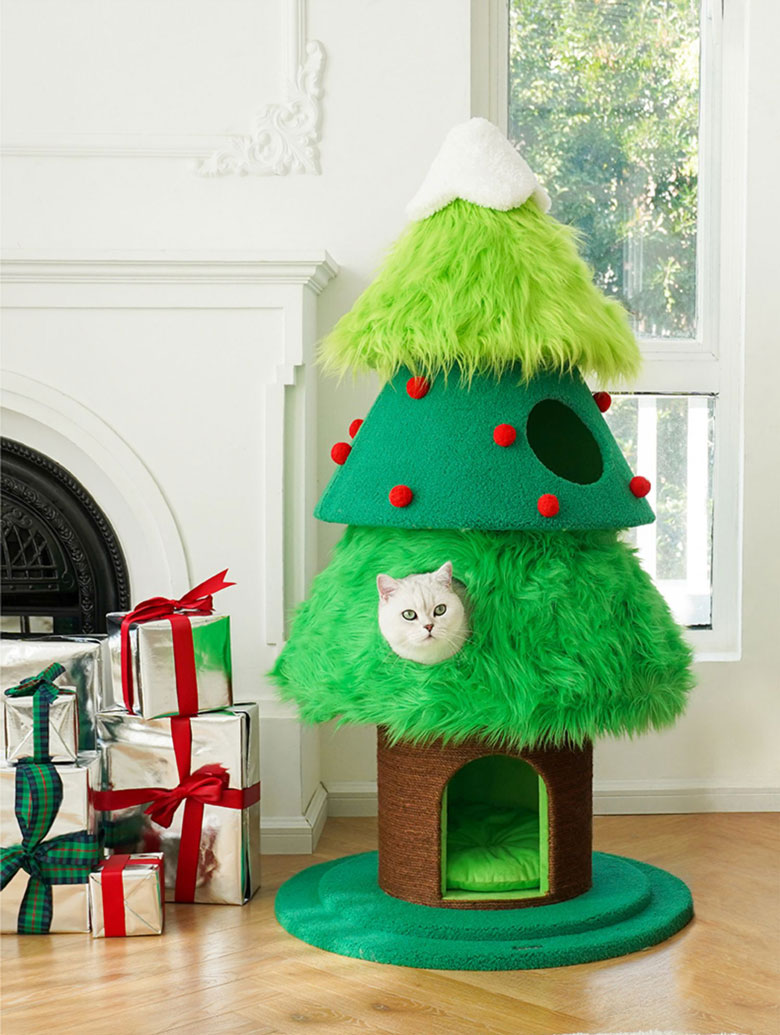 FEATURES:
Festive Design – This large tree cat tower features a design inspired by a Christmas tree, making it a fun and playful addition to any home during the holiday season.
Multiple Levels – The cat tree includes multiple levels for cats to climb, play, and rest on.
Hanging Ornaments – It includes hanging ornaments that cats can play with, adding to the festive atmosphere.
Cozy Compartments – The Christmas cat tree features cozy compartments for cats to rest and relax in, providing a comfortable spot for them to escape the holiday chaos.
Encrypted Plush – The top layer of the Christmas tree cat tree is specially made of plush, which is comfortable to the touch and keeps warm.
Sturdy Structure – Adopts a scientific triangular structure, and there is a hidden climbing channel inside, cats can shuttle freely without shaking.
Sleek Hole Design – Each layer of the hole is wrapped with flannelette to ensure the cat's comfort and safety.
Hemp Rope Bottom Trunk – The cylindrical trunk is wrapped with hemp rope, which is strong and wear-resistant.
Double-Layer Base – One large and one small high-density board superimposed to improve bearing capacity and stability.
Stable Construction – Christmas tree cat tower is built to be stable and sturdy, ensuring that it can withstand even the most active cats.
Easy To Assemble – It will come with easy-to-follow instructions and all the necessary hardware, making assembly a breeze.
Suitable For Multiple Cats – With multiple levels and compartments, the cat tree is suitable for households with multiple cats, providing plenty of space for each cat to play and rest.
NOTE:
1) Pay attention to keeping the Christmas tree cat tower dry and do not place it in a humid environment.
2) Clean the inner pad regularly to reduce the growth of bacteria.
3) Use a vacuum cleaner to remove surface hairs or dab surface stains with a damp towel.
SPECIFICATIONS:
Material: Wheat Velvet, Crystal Velvet, Hemp Rope, Paper Tube, Wood-Based Panel.
Size: 67cm x 67cm x 127cm (26.4 in x 26.4 x 50.4″).