Black Face Sheep Cat Tree
DESCRIPTION:
The curious cats gathered around the new toy – black face sheep cat tree. What an amusing sight, a sheep turned into a cat's dream den. They batted at the fluffy sheep head and chased the catnip ball on the tail. Laughter echoed all around as the cats pounced and purred, delighting in their bizarre and woolly playground.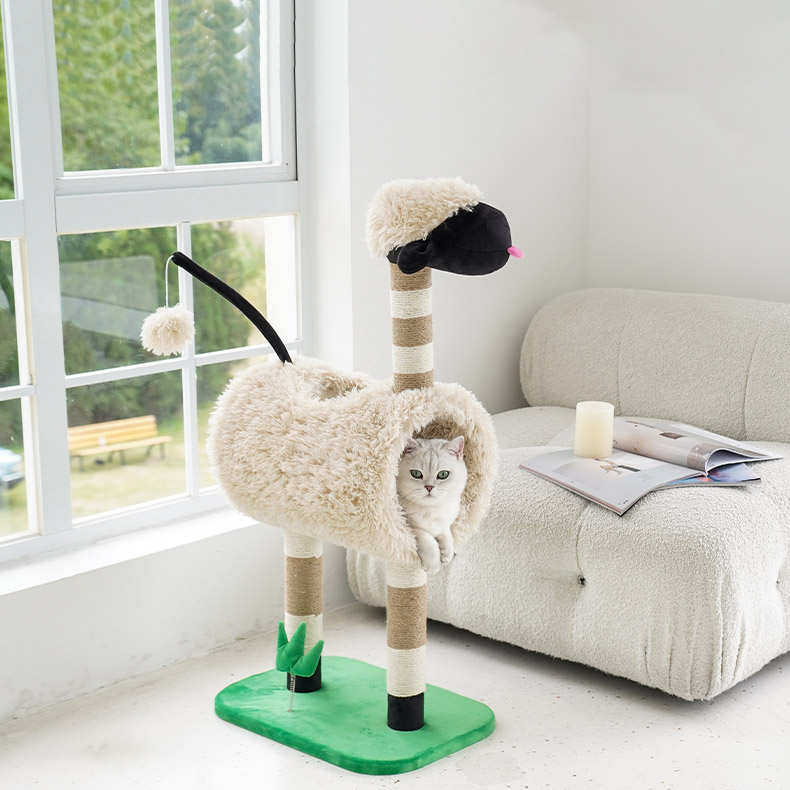 FEATURES:
Unique Design – The black-face sheep design is a unique and fun addition to any cat lover's home. It's sure to add personality and character to your living space.
Sheep-Shaped Cat Tunnel – A full sheep body serves as an amusing cat tunnel with openings on multiple sides for play and napping.
Scratching Post Legs – The sheep's two legs double as sisal scratching posts to keep cats' claws trimmed.
Cat Teaser Tail – A soft tail ends in a feather toy and catnip ball, enticing cats to chase and bat at the teaser.
Multi-Level Play Spaces – Beds, posts, tunnels and teaser toys at different levels ignite playful pouncing and perching.
Durable & Sturdy – Constructed of sturdy materials, this play sheep stands up to vigorous play sessions and tender napping.
Decorative Accent – The quirky sheep design makes a whimsical decorative accent and conversation starter.
Easy To Assemble – Simple assembly with all parts included makes this black face sheep cat tree easy to set up in any location cats call home.
NOTE:
1) Keep the cat tree dry and do not place it in a humid environment.
2) Regularly clean the inner pad to reduce the growth of bacteria.
3) Use a vacuum cleaner to clean the sheep cat tree surface hair, or gently wipe the surface stains with a wet towel.
SPECIFICATIONS:
Materials: Rabbit Velvet, Crystal Velvet, Paper Tube, Wood-Based Panel & Hemp Rope.
Size: 49cm x 34cm x 97cm (19.3 x 13.4 x 38.2″).