2023 NEW Anti-Gravity Air Humidifier
Focus on endurance!
This cool mist humidifier does not need replacement filters, and its 800ml tank can give up to 10 hours of soothing mist.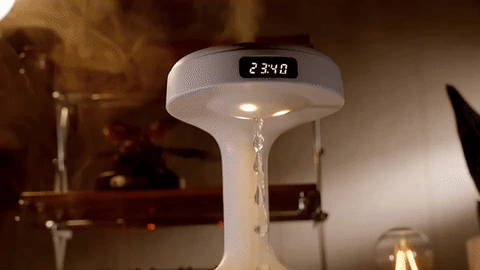 Wherever you are, whenever you want
Our humidifiers help you breathe better wherever you are. We take responsibility for improving the quality of your air while you sleep or during your work from home/in the office. 
The compact size of the device lets you play with its exquisite design and add an innovative touch to your house decor.
Cough and dry air treatment
Stay hydrated all day and night and maintain a healthy environment by keeping indoor humidity at appropriate levels. Our humidifiers prevent a wide range of health issues, from respiratory conditions and skin problems to nosebleeds, dry eyes, sore throats, and more.
Quiet and secure
Silent AMSR sounds of water droplets provide maximum relaxation while sleeping or studying without any unpleasant noise. The device has a built-in dry burn security mechanism, which automatically turns itself off when water levels reach 0 so that you could enjoy your sleep with no hassle.
SPECIFICATIONS:
Material: ABS + Silica Gel.
Size: 120mm x 231mm.
Weight: 450g.
Operating Temperature: 0-40°C.
Water Tank Capacity: 800ml.
Working Hours: 10h.