DESCRIPTION:
The large-capacity mermaid tail turns the cute cat into a mermaid, quietly waiting for its beloved owner. The windproof and warm-wrapping design and the soft and delicate interior give the cat care like their mommy and let the cat fall asleep in the arms of the mermaid and have a wonderful dream.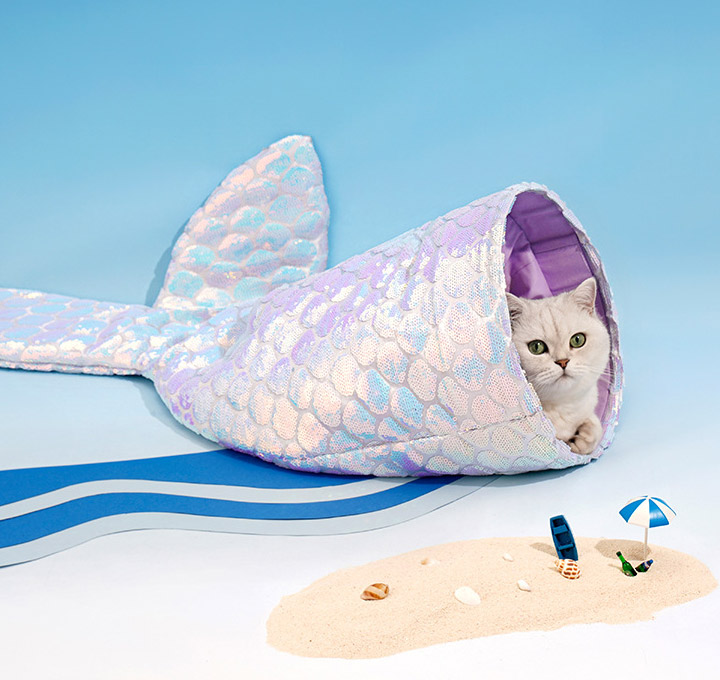 FEATURES:
Envelopment Style Opening – The shape is firm and does not collapse. The delicate and soft fabric inside can maintain a constant temperature, allowing the cat to enjoy the warmth and comfort of sleeping in a swaddle in the cold winter.
Fantasy Mermaid Tail Design – The fresh and sweet gradient color is full of fairy tale colors, adding a romantic atmosphere to the home.
Invisible Wiring Design – Exquisite and meticulous wiring, excellent workmanship at the stitching, every detail reflects the quality design.
Gradient Glitter – Using safe and environmentally friendly glitter design, giving cats safer care.
NOTE:
1) Keep the product dry and do not place it in a humid environment.
2) Please clean the inner cushion & surface hair regularly, or gently wipe the surface stains with a wet towel.
3) You can place items with cats' familiar smells in the nest to guide cats to use them.
SPECIFICATIONS:
Material: 100% Polyester Fiber.
Size: 85cm x 50cm x 20cm (33.5 x 19.7 x 7.9″).